Two mighty fortresses are located on opposite sides of the river, facing each other: the Narva Castle with its bastions and the Ivangorod Castle. They form an architectural ensemble unrivalled in the entire Northern Europe: a classical castle with several bastions from the 17th century and a Russian fortress of the 15th-17th century.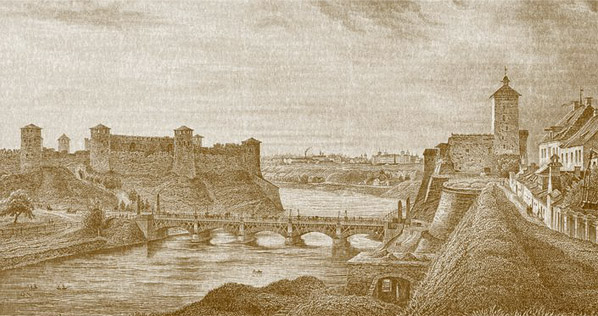 Narva has always enjoyed the advantages resulting from its location at the crossing of important trade routes, and Denmark, the Livonian Order, Sweden, and Russia have fought for its possession. First written records of a settlement called Narva date back to the year 1240. By the middle of the 13th century, the Northern regions of Estonia had been occupied by Danes. In order to guard trade routes and have a stronghold on the frontier of their possessions, the Danes built a castle on the bank of the Narva River at the end of the 13th century. The town rights were granted to Narva in 1345 by an edict of the Danish King Woldemar IV. Opposite to the Danish Castle, in 1492, the Grand Prince of Moscow and of "all the Russias" Ivan III built his new market town/fortress. It may be considered that Ivan III built a "Window on the West" in the Baltic region two hundred years before Czar Peter the Great.
The walls of the Ivangorod fortress and the Narva Castle have witnessed many important milestone-events in the history of Europe: the Livonian Order and the Great Northern War, the Crimean War, the First World War, the War of Independence, and the Second World War have left their marks on them.
The history of the two neighbouring cities is intertwined with the lives of a great number of world famous politicians, scientists, merchants and cultural notabilities.
These include Ivan III and Ivan the Terrible, Boris Godunov and Adam Olearius, Pontus De la Gardie and Grigori Katoshihin, Peter the Great and Karl XII, Catherine the Great and Catherine II, baron Münchhausen and Arseni Macievicz, Alexander Stieglich and Peter Lavrov, Alexander III and Wilhelm II, Heinrich Schliemann and Ivan Bilibin, Bela Kun and General Judenitch, Josif Broz Tito and Georg Ots, Jaroslav Hašek and Eduard Vilde, Generals Fedyuninski and Starikov, Lieutenants Graphov and Suvorov, and many, many others.
During its centuries-old existence, Narva and Ivangorod have seen periods of prosperity and survived difficult times.
The Narva region has maintained its importance from the viewpoint of politics and economy to this day; it is a vital transport artery, but also a place where cultures of different nationalities meet, as well as an interesting centre for tourism and a historical landmark located on the border between the European Union and Russia.